Last Updated on 30 March, 2023 by FKC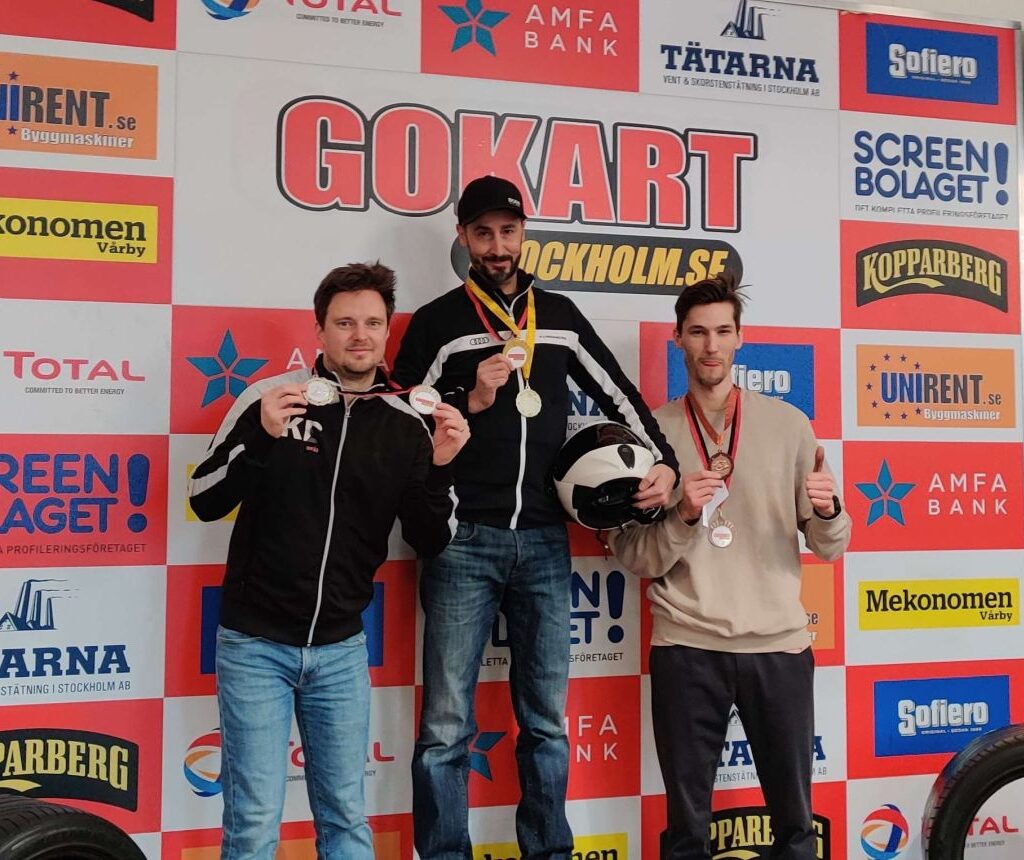 Stage 2 took place at Gokart Stockholm indoor track. 13 participants gathered to find out who can outrun everybody in 2 Qualification sessions and, most importantly, the Final race. In Q1 the fastest was Christer, followed by Niklas and Kristoffer. Both of the followers couldn't improve their time in Q2. In fact, more than a half of the peloton – 7 drivers – showed their best lap times in Q1. That helped Mattias who improved his result in Q2 and became 2nd, letting only Christer take TQ. Three Championship rookies: Jacek, Oscar and Lukasz were qualified 5th, 6th and 12th. Previous race winner Mika was only 9th.
In the Final Christer controlled the others' pace on the rolling start and used it for his benefit, keeping Mattias behind. Niklas didn't like the fact that Christer is getting away, and he quickly found an opportunity to overtake Mattias for the 2nd. Right away came even Kristoffer and took P3. While Mattias was really struggling and losing positions, behind them Martin was gaining some. First Fredrik, then Mika, then Berke. Jacek lost both to Martin and Oscar. So many position changes on that indoor track! It definitely wasn't a good day for Mika, but it was a perfect day for Christer! He was able to stretch his lead over Niklas and then made a few passes of the lapped ones. 15 laps flew away and Christer crossed the finish line as the winner of Stockholm GoKart PRIX! For the first time in his career Christer got a P1 medal! Niklas came 2nd and Kristoffer took P3. Mattias wasn't able to hold off Pontus for the 4th.
In standings Mattias took the lead due to Mika's poor result in Stockholm. Christer's victory put him directly in P3. Igor disappeared from the top 10, and was replaced by Niklas and Kristoffer. It will be very interesting to follow how this table will be changing throughout the upcoming 4 races before the summer break!
Big thanks to all participants! And don't forget that this Saturday everybody will be able to test themselves in different conditions at the Caroli Kart Center Nyköping indoor track for a chance to win the one and only CHALLENGE CUP!!! 🙂 All you need to do is apply for this event on our website and show up on time.
Race documentation from the last race you may find here.