Last Updated on 29 May, 2023 by FKC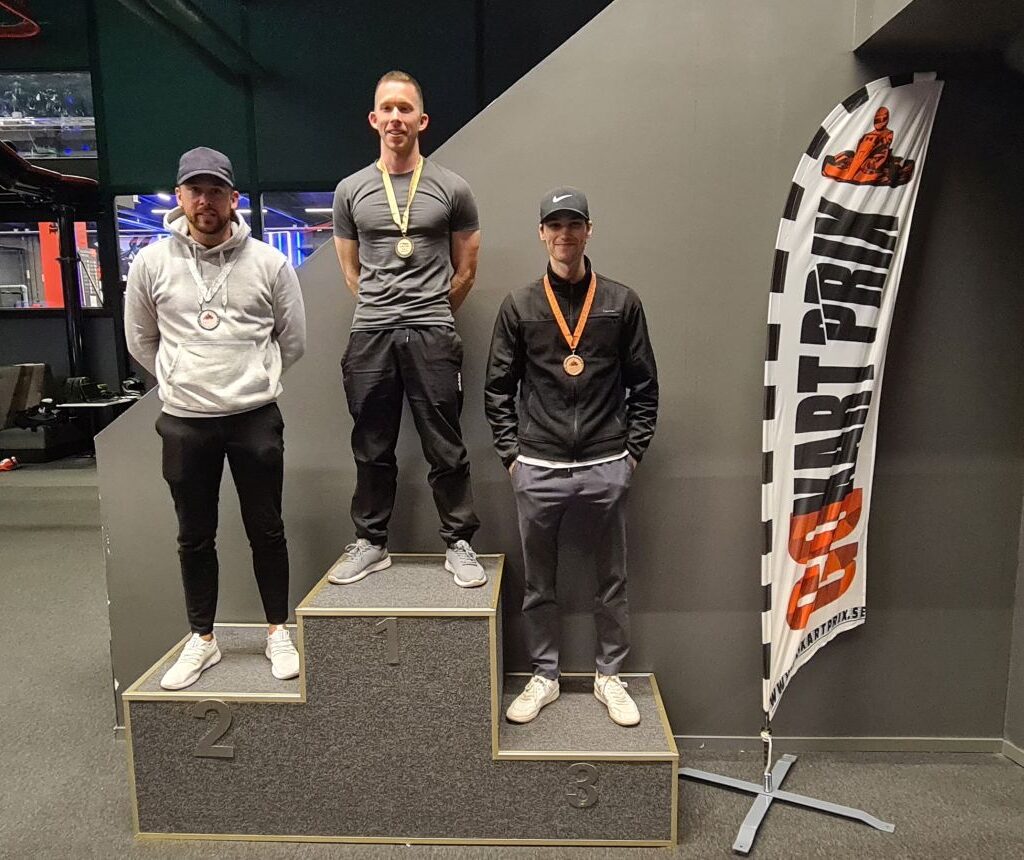 The second race of the day took place at Gokart by JumpYard facility in Örebro. It happened so that it was the 100th race of our Championship and we are very proud of this milestone! There were 7 participants who joined the race to celebrate with us. As a gift from the track staff we've been testing a new feature – the boost button. It brings extra power from the electric engine to the wheels. In order to test and practice this new feature in better conditions it has been decided to divide participants into 2 groups for qualifications.
The Fredriksson brothers were driving in separate groups, but both of them were the fastest in their own group in Q1. Kristoffer had much better pace than earlier that day and showed 3rd fastest followed by Berke and Mattias. Both Igors from Latvia closed the list. In Q2 everybody except Berke managed to improve their lap times as drivers got to use the power button more wisely. But the biggest improvement showed Kristoffer who managed to show the epic lap time within 24 seconds and he got himself a first TQ in his career leaving Daniel and Kevin behind.
And then there was the race. 1 group for all. Kristoffer started from pole-position and he was leading up until the first corner. Then something went wrong and the big one happened. Kristoffer spinned and let both Fredrikssons through. Berke was another unlucky participant – he dropped from 4th to 7th because of this incident. Kristoffer had a real chance for his first victory, but now he was running 3rd right behind Kevin trying to get back his place. He was using a boost button for overtaking, but Kevin wisely was using his button for defending. Behind them the same action was happening between Igor K and Mattias. One was attacking, another was defending. One was out of the "juice" and another one got him. But then a planned reload of extra power happened in the middle of the race so Igor K used it to get back P4. Behind them Igor S was searching for the opportunity to overtake them both. First he reached and passed Mattias. Then it was Igor K's turn. But he closed the door and both Igors collapsed. Igor K recovered quickly and held his P4, but Mattias returned to P5. And then suddenly Berke showed up who didn't want to finish last. He passed Igor S for 6th, but couldn't hold this position during the last lap when Igor S took back P6.
But in the front Daniel was leading all the way and crossed the finish line first! So we now have the 4th new winner in 4 races!!! Wow! That was one bumpy ride at Gokart by JumpYard! After this race Mattias continues leading the season, followed by Kristoffer who jumped up to P2 and Kevin who tied with Igor S in points but removed him from top 3. Igor K appears in the top 10 and ties with Chister with 33 points. Thanks to Jens and his staff for helping in organization of this event and big thanks to all the participants! Race documentation is here.
Next race is already tomorrow! Join our Discord community for latest news, chats and results.