Last Updated on 11 July, 2023 by FKC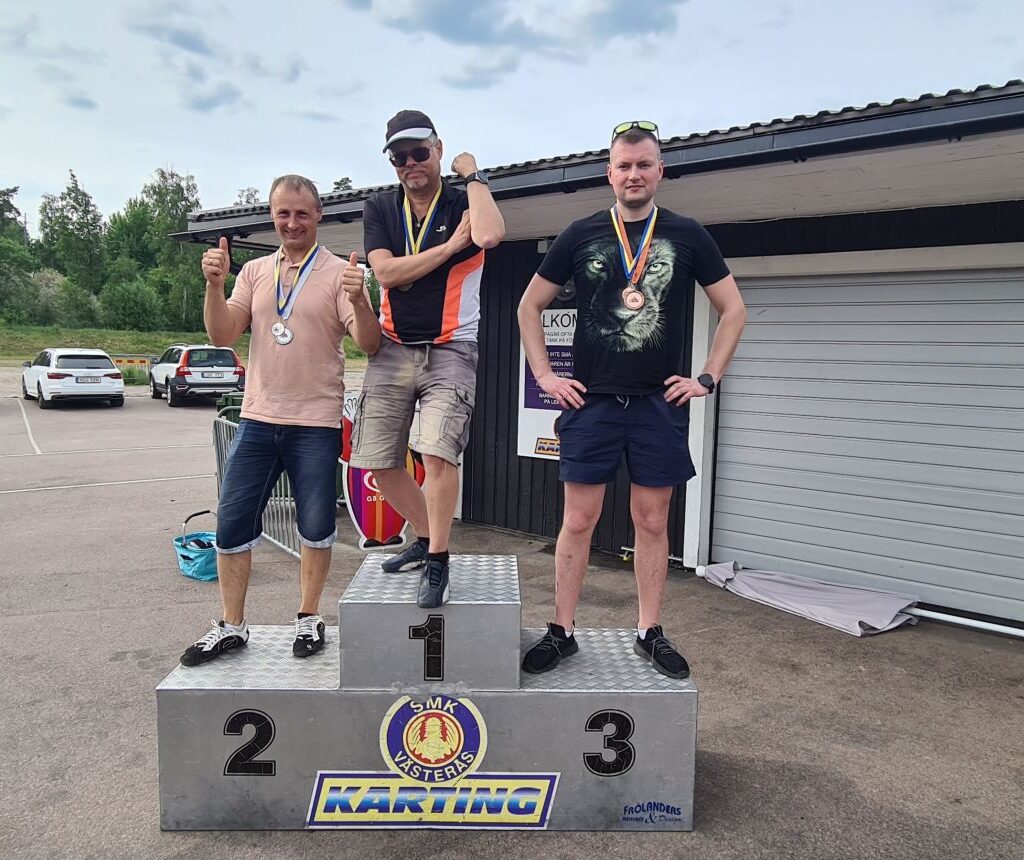 A week before Midsummer we teamed up with the Gokart Cup series to make a shared racing event where participants from both championships would compete on the same track. There were 18 drivers gathered and ready to race. The weather was perfect, maybe a bit warmer than usual, but nobody really cared since Hälla Gokart offered us chilled water. Each session ran in 2 groups. All started with Qualification. Igor was the fastest in Group 1 being the only one who beat 47 seconds. The gap between 47 to 48 seconds was all covered by Lithuanians – Ernestas, Audrius, Gedrius and Petras. 3rd place owner of stage 1, Sergej, could show only 7th fastest lap time. All drivers in group 2 were faster than 49 seconds per lap which dropped Sergej to 16th place in total. The fastest of them was Mattias N who also beat Igor's time by 0,15 seconds and took TQ. Mikas was able to get to the top 3 beating Ernestas, Tomas, Mio and Kristoffer.
In Semi-Final group 1 Ernestas right away took the lead from Igor. Audrius and Mattias H were battling for 5th. Swede won this position, but Audrius lost even 6th to Petras. Igor was chasing Ernestas who lost his rear cover on the backstraight. That could have given him more speed but instead he lost the track in turn nr.3 and went a bit off-road which gave Igor an easy shot for the lead. Petras reached Mattias H and started fighting with him, but Audrius used this opportunity to take back P6 from Petras. Not for long. Audrius made a small mistake and as a result not only Petras, but also Sergej passed Audrius. Then Petras finally overtook Mattias H for the 5th. Mio and Calle were running on P3 and P4. A GoKart PRIX rookie Vasilis was struggling with his kart all the way and eventually was overlapped. That was the order how this session ended with Igor winning the heat, followed by Ernestas and Mio.
In group 2 Mikas, who started from second position, went inside into the first 2 corners, but ended up outside in turn 3 letting both Kristoffer and Tomas pass him. He lost another position to Giedrius after exiting the last corner very wide. And then 2 positions more by the half of lap 2. Not a good start. Tommie was leaning on Giedrius, but couldn't pass him yet. That let Jimmy and Mikas join the party. All of them were trying different routes and lines to win the spot until the moment when Tommie made contact with Giedrius before turn 3 which led to a spin for the Lithuanian. It was considered a race incident by the referees because they were going 3-wide into the corner. Too bad for Giedrius. And also for Mikas who lost some time trying to avoid the crash. Tommie was the winner here who gained 2 positions at once. In the front Mattias N was feeling a lot of pressure from Kristoffer for the whole session. But he didn't choke and never let his opponent through until the finish line.
In Final B Vasilis almost did the jump start, but "almost" doesn't count, so it went well for him. Giedrius took the lead from P2 already before turn 1. Behind him racers were driving 3-wide where Mikas this time was outside. He got pushed a bit into the grass, but his efforts paid off when he found himself inside into turn 3 letting only Audrius through. He took back that spot on the next lap and started chasing Petras. He did overtake him, but at the same time Audrius overtook them both! He was happy for about 5 seconds when Mikas became 2nd again and the next lap even 1st. After several laps Giedrius got caught by Audrius. Right behind them were battling Petras and Mattias H. It was another "oh-oh" moment when 4 of them entered turn 3, but this time there was nothing to investigate. Suddenly Kim caught Mattias H and got himself in front of him. Even Polymeris was already close to this group. Meanwhile Giedrius lost another position, this time to Petras. Kim also was gaining on Giedrius, but instead gave his spot back to Mattias H. Sergej and Vasilis had some spins during this heat and therefore came last. But the winner was Mikas who jumped to Final A.
And then there was the grand finale! Mattias N held his lead, while Ernestas overtook Igor for P2. Into the half-lap Kristoffer lost a few positions while Tommie gained some. Tomas was attacking Igor by the end of the lap, but unsuccessfully. Tommie and Jimmy were already there to show their wheels. Mikas, who started dead last, gained 2 positions and was breathing on Kristoffer's neck. Meanwhile in the front Ernestas managed to overtake Mattias N and took the lead. By the next lap Tommy somehow let Jimmy and Kristoffer through. Igor was hoping to use the leaders' fight to get closer to them, but instead missed the moment when Tomas overtook him for the 3rd. Igor really wanted his podium position back and made a foul by pushing Tomas off the track. He knew that he would get a penalty for that, so he gave Tomas back his position. That let Kristoffer get closer to Igor. Behind them Tommie and Jimmy were fighting and losing some pace. Mikas said "Thank you very much" and overtook Tommie. But it was much hotter in the front – Mattias N was pressing Ernestas all the way and finally took back the lead. Way behind them Igor not only didn't pass Tomas, but missed another driver – Kristoffer – who took his place. A bit further Mikas made a move on Jimmy on the last lap for P6. Igor exited the final corner better than Kristoffer and had a better torque. But on the finish line Swede was 0,02 of a second earlier. Tomas easily took 3rd place. Ernestas just couldn't do anything with Mattias who won his 2nd race in a row! Congratulations!
It was a very nice race with many battles happening on every level! Mattias extended his lead in the GoKart PRIX standings while Igor remains being 2nd and Kristoffer got into top 3. But if we look at another list of points that only counts the best 3 of 6 races we will see that Kristoffer, who got 4 extra points for the fastest laps in the last 2 races that he participated, actually is holding P2 and he isn't that far away from Mattias! Kevin, Tomas and Daniel are very close to Igor, so there's nothing set yet. We still have 7 races to run and 2 of them are coming on the 29th of July!
We thank all the participants and big thanks to Hälla Gokart staff for helping in organization of this event! Special thanks to Tomas and Sergej for filming as well as Tommie and his Gokart Cup gang for cooperation!
Race results you may find here.
Video of the Final A you can watch here:
Join our Discord community here.
Have a great 2nd half of the summer!