Last Updated on 6 October, 2023 by FKC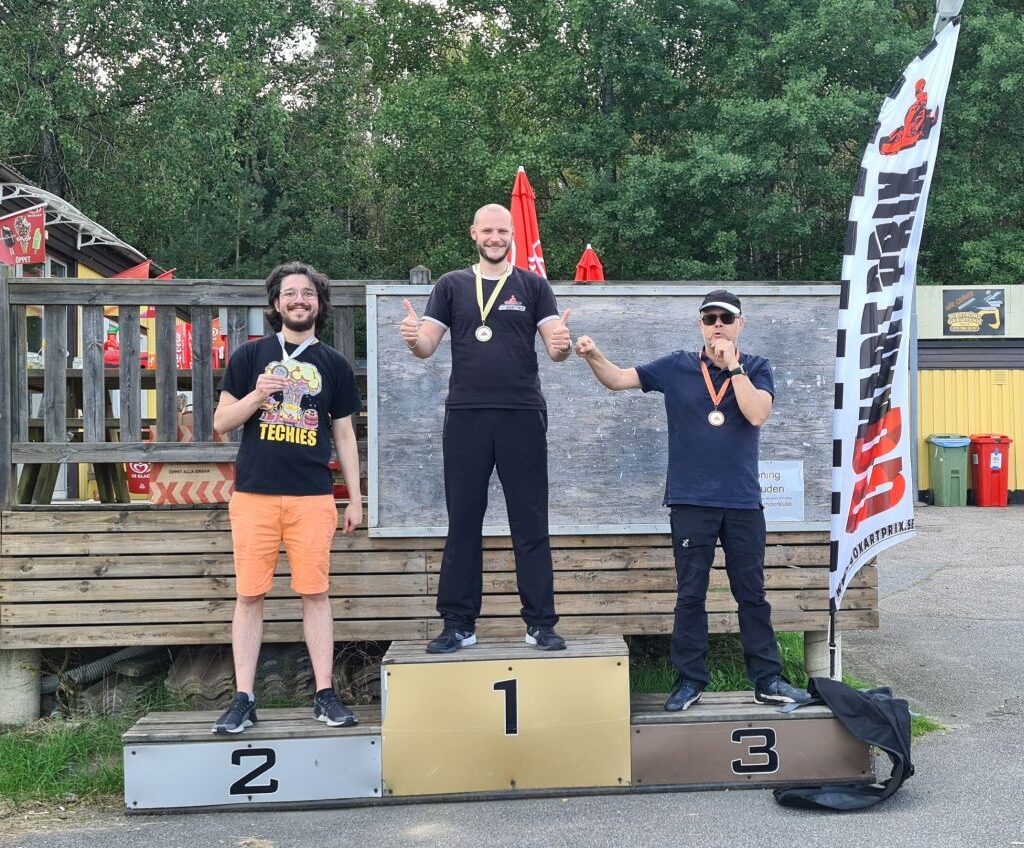 When we arrived in Katrineholm we were greeted by the nice and lovely staff who showed us their new gokarts. The track hasn't changed since we last went there 5 years ago, and still was the same, interesting and tricky. This time we used extra weight balance to even the chances. And it paid off. Igor was able to show the best lap time in Qualification and he got his first TQ in 2 years. Next fastest was Mikas, followed by Berke, Mattias and Tomas.
In the Semi-Final Igor was holding his position from the start while there was a real fight going on behind him. Mattias overtook Berke and went for Mikas. Tomas was pressing Berke in every corner. Mikas was defending well, but had to yield and Mattias went hunting Igor. Then it was Tomas's turn to attack Mikas. But the Swede held on bravely and finished 3rd. Mattias couldn't catch Igor, but it was the Final heat that counted.
Igor, again, started good by defending the inside of the first turn. He was slightly pushed by Mikas, while Mattias took the outside and gained a better grip. After a few corners Igor understood that this is his chance to create a nice gap while everybody else is fighting behind him. Once he thought of that he suddenly drove into the grass and jumped on the gravel pit. Luckily for him he got back on the track not losing the lead. Behind him the battle continued – Tomas overtook Mikas and started fighting Mattias. Both of them wanted to choose the best line but also to defend at the same time. They went on like this for a few laps, fighting and switching positions, until they entered the most tricky corner side-by-side and that led to a disaster… Some say Tomas was too optimistic entering that corner at high speed. The others say it was Mattias who dove inside and pushed both Tomas and himself off the track. But there was no video footage to investigate this incident and neither track staff could see this episode. So we had no choice but to declare it as a racing incident. But the result was awful for Tomas – he ended up far off the track and abandoned his gokart. He walked back to the pits, very frustrating. Mattias appeared to rejoin the track, but spun and at this moment Mikas collected him and Berke crashed into Mikas. The Turk was able to continue the race on P2, then drove away Mattias and only after that followed Mikas. And this is how they finished the race. Igor didn't make any more mistakes and crossed the finish line first, showing the best lap of the stage.
It isn't often at all when Mattias is involved in some kind of incident and that's how he is always stable. This time this wasn't the case, and yet he ended up on the podium and earned a lot of points. In fact, he earned enough to claim the title already in the next race! Yes, Mattias needs only 4 points to become the new champion of GoKart PRIX! And even if he decides to skip all 3 upcoming races the only person who can get him is Kristoffer, but he will need to win all 3 races with at least 2 TQ's and at least 1 best lap of the stage. So, basically, Mattias needs to start the next race and Kristoffer will be fighting with Igor for P2. The Latvian is 9 points behind, and if he keeps his good performance he might well claim the spot.
Thank you to Valla Raceway staff and to all participants! Tomorrow is a new day and a new race. Race documentation is located here.