Last Updated on 5 November, 2023 by FKC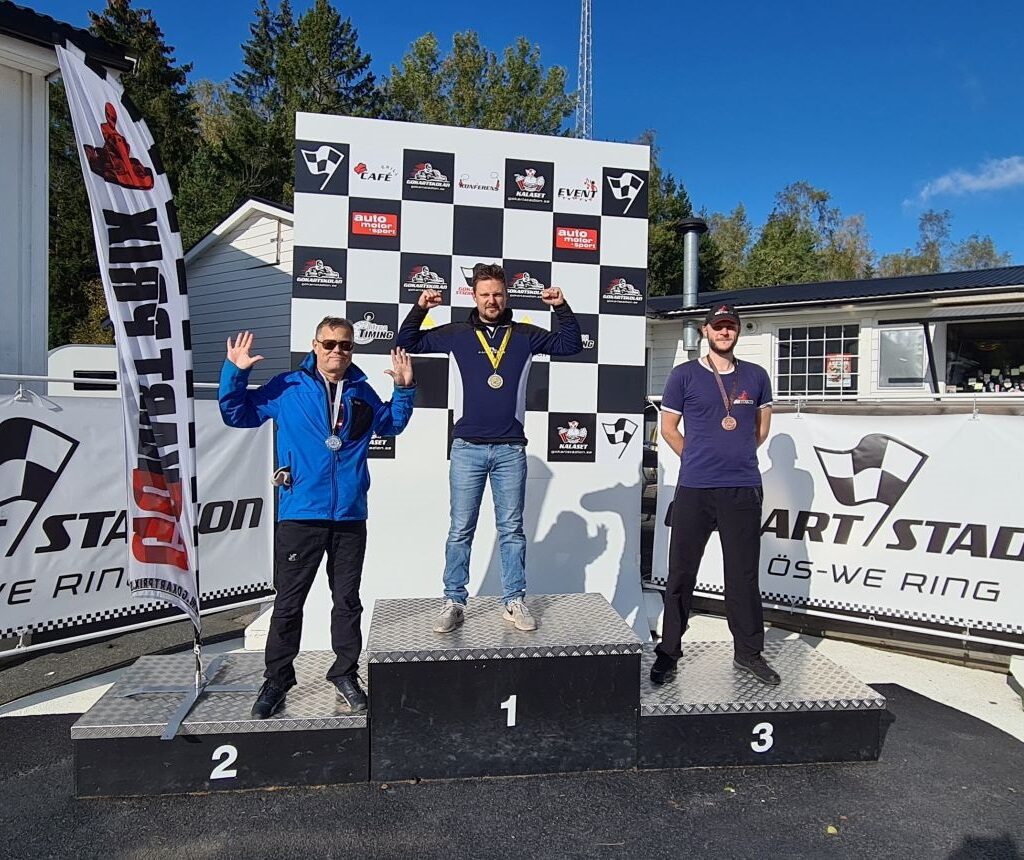 The last outdoor race of the season took place at ÖS-WE Ring. It was nice October weather and 7 participants showed up to race each other for medals. Among them was Niklas who already has 4 victories at this track. Also 2 rookies joined us – one from Sweden and one from China.
In Qualification the fastest was the local hero Niklas. He was the only one who managed to beat 45 seconds. He was followed by Mattias and Kristoffer. In the Semi-Final Kristoffer overtook Mattias right at the start, but couldn't reach Niklas. But he wasn't focusing on the leader anymore since he had to defend his 2nd spot from Mattias's attacks. Igor was behind them, but couldn't use the fighting opportunity to get closer. Instead, he spun and almost let Joel pass him. On the last lap he spun again and Joel used this chance and took P4. But Latvian caught Joel and took back the spot right before the finish line! Mattias couldn't catch Kristoffer, but no one could reach Niklas.
Before the Final the proposition came out to do a reverse grid. And, since this option isn't included in our rules, 100% of positive votes should have been collected in order to go on with this option. For Niklas it was a fun challenge that he accepted. There was no difference for Mattias since he just needed to start the race in order to become the champion, so he also agreed. Igor didn't really care since he would start from P4 in both options, so he also went for it. Places 5 to 7 were happy to start from the top 3, so there were no objections from their side. The only person who was risking was Kristoffer, because he would start behind his main rival for the vice-champion title – Igor. But surprisingly he also voted for the change, and the decision has been made!
The Final started, and Mattias, Kristoffer and Niklas shot like bullets to the front. A championship rookie Ryan was leading for a moment, but after the second hairpin Mattias was already in front of him. Another rookie Shifei spun before this hairpin and Igor had to slow down and choose another line to pass him without a crash. That way Igor already became 6th. Another hairpin and Ryan's nerves gave up – he also spins, letting everybody through. Niklas was feeling like home at his hometrack 🙂. He easily passed Kristoffer and went hunting down Mattias. The 2019 GoKart PRIX champion reached him in 2 laps and made a nice unexpected move for the lead on a new and freshly made GoKart PRIX champion. Mattias was trying to fight back for a while but wasn't successful. Igor was doing everything he could to reach somebody in the top 4. After some laps he reached Joel who was breathing in the neck of Kristoffer. Igor bump-and-passed Joel for the 4th and saw his main competitor right in front of himself. Right away he recalled the race in Norrtälje and how good Kristoffer was defending there. This time the Swede made a bit easier case for the Latvian – after 2 corners of side-by-side fight Igor appeared in front. Now he had to defend from Kristoffer's attacks. And he managed to do so. But nobody could stop Niklas that day (unless it would be Andreas in the rain… 🙂 ). He won another race at ÖS-WE Ring and beat the record of most wins at one track (5)!
As we already mentioned, Mattias became our new champion 2 races before the end of the season. CONGRATULATIONS!!! Now the real fight is for P2 – Igor took 3 points away from Kristoffer and there are only 6 points left between them. Meanwhile Shifei became the 200th participant of a GoKart PRIX event! This is a very meaningful milestone that we reached in our 10th season. Thank you all for keeping this Championship alive! Next race – Nyköping.
Race documentation is here.